Skydancer Dragon
Comments

2
627pages on
this wiki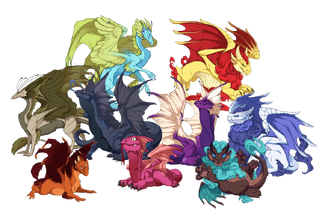 The Skydancer Dragon is one of the obtainable
breeds
, and was sponsored through the
Flight Rising Kickstarter
by Scorpius.
Marketplace Price is 400k Treasure.
Crim is offering 80,000 treasure for the scroll, and the scroll sells for 40,000 treasure from the hoard.
Obtained: Treasure Market, Breeding
Rarity: Uncommon
Breeding Cooldown: 25 days
Diet: Insects, Plants
Physical Attributes
Edit
Not Released Yet
Not Released Yet
Not Released Yet
Not Released Yet
Read More
External Links
Edit
N/A
Skydancers were released on August 24th 2013. Scrolls initially were hard to come by due to the mass want for the new breed, but demand stabilized within a month.
The concept art of this breed was done by Jessica "Neondragon" Peffer who is Flight Rising's main artist.
Skydancers are currently the only breed that start with stats below 5.