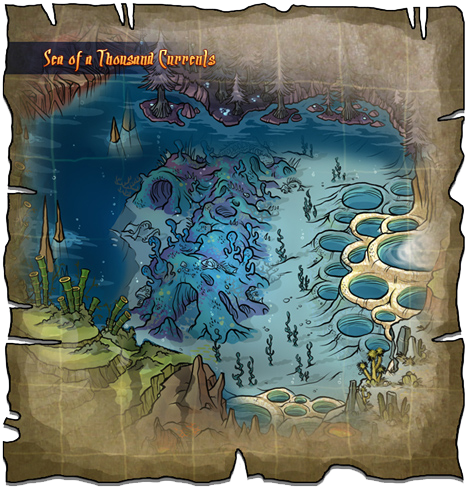 The largest body of freshwater in the realm. The sea rises and falls each day, bringing all manner of sea life to the shores of the regions surrounding it, providing sustenance to clans of all elements. So vast is this sea, that the shorebound observer would see only the faint silhouette of the surrounding lands on the horizon. It is beneath this colossal well that water dragons spend their lives. traversing the deeps and sharing visions of the futures they foresee.
Region Information
Zone Element: Water
Reigning God: The Tidelord
Indigenous Life: Shadowmist Oysters, Diving Aranea
Subregions
Tsunami Flats

A becalmed coastal stretch of shoals and giant tidal pools. Dragons occupy the pools, burrowing into the loamy sand shaping half-submerged underwater caves with their small, but growing magics. Sustenance, in the form of amphibious reptiles and fish, is abundant, Although seemingly a frontier, it is at these shores that the Water God is most able to protect his charges, employing tidal wave defenses to menace away aggressors.


Fishspine Reef

The coral here roots deep into the dried marrow of gargantuan bones left behind from an ancient battle in a forgotten era. Whether these remains are of monstrous fish, dragons of yore, or something completely other, the Fishspine is crowded by lost history, sunken artifacts, and drowned spirits.


Leviathan Trench
The deepest part of the world. The sea beneath the sea is a treacherous and savage place possessing of an unforgiving undertow and precious little light, Many wonders are said to exist here - more relics of prehistory - shrouded, even from the Tidelord's gaze, by a silty, unbroken twilight occupied by alien fish, and far worse. It is in the safety of the cliff faces that the flights dig their homes, and into the unknown that their bravest dare dive.


The Spiral Keep
An immense conch, settled and pressed into the very bottom of the seabed. The pressure here is so intense, that the integrity of this mysterious structure is pressed to its limit, nearly imploding under the weight of the water churning overhead. Within this dreary coil, the Tidelord bellows and moans his prophecies, which are carried to the surface by way of billions of tiny bubbles.
Ad blocker interference detected!
Wikia is a free-to-use site that makes money from advertising. We have a modified experience for viewers using ad blockers

Wikia is not accessible if you've made further modifications. Remove the custom ad blocker rule(s) and the page will load as expected.